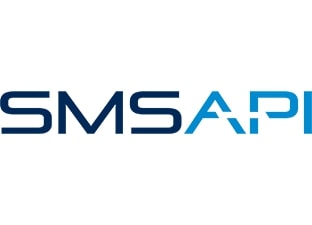 Reading the markets'…messages!
 Turnover almost doubles when retailers use sms marketing tools
1 out of 4 consumers use their mobile device to compare prices even during purchase
 With the markets' landscape changing rapidly, with smart phones and online transactions leading the way, consumers' communication moves to another level, becoming more personal, immediate and fast.  According to the forecasts of the Hellenic Electronic Commerce Association (ESEE), by the end of 2019 the turnover of e-commerce in Greece will reach 4 billion euros, increased by 8% compared to 2018, while at the same time the percentage of those aged 16 to 74 who have used the internet at least once to buy something have risen from 27% in 2012 to over 40% by the end of 2018. These figures show both the dynamics of e-commerce and the related need of businesses for direct and simple communication with consumers through the channels they choose in their everyday lives. 
In this context, mobile devices turn into a "tool" for both the consumers and the businesses, both before and during the purchase process.
It is worth mentioning that 1 out of 4 consumers use their mobile device to compare prices even during the purchase process while mobile payments are expected to exceed 40% of total transactions in major markets of USA, China and EU.
(Source: GfK International Retail and Consumer Insights – Tech Trends 2017)
While 85% of online Greek consumers choose to shop from domestic online stores at a percentage of 80% vs international online stores (ESET data), the Greek companies that are constantly developing their e-shops also face the challenge of having to develop their respective channels of communication in in a more personal and direct way.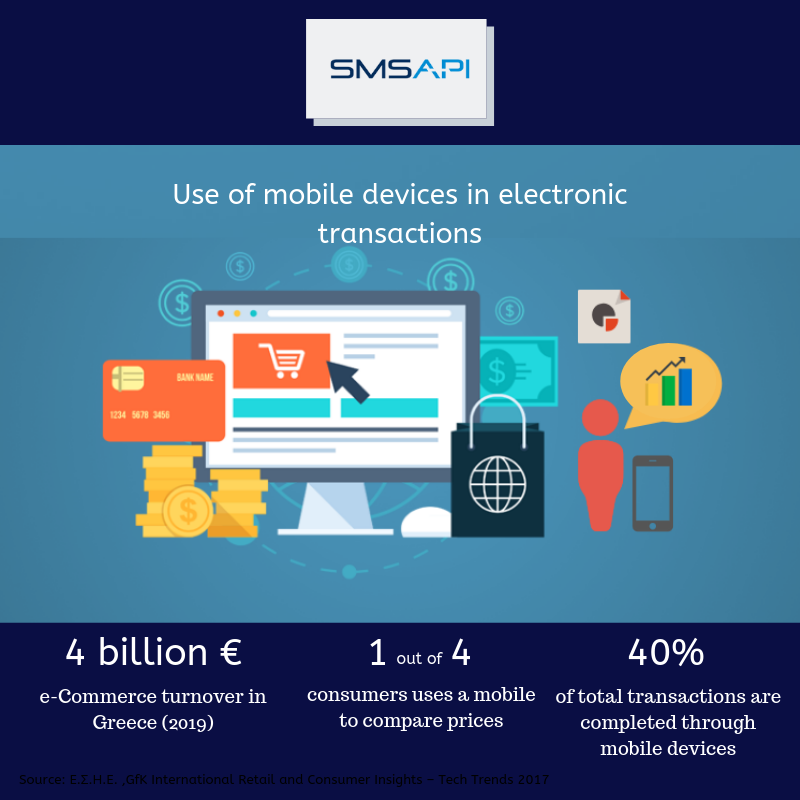 SMS as a channel that increases sales and traffic
The above data confirms that sms communication is the most direct and effective way to reach consumers and highlights that sms is a powerful marketing tool with impressive consumers' reception.
It is also characteristic that according to SMSAPI Report 2018, more than 35% of consumers are willing to give their phone number to get better information and offers for their purchases.
The numbers speak for themselves: according to a large retail chains' Google Analytics data analysis, after undertaking a sms campaign, the retail store saw its website traffic increase by 100%, 60% increase in the number of new users, and an increase in the volume of sales by more than 88%!
In simple words, it turns out that a short sms message can be a great boost in order for the consumer to proceed to purchase.
Thanks to the instant and fast communication of sms, businesses are able to keep constantly in touch with their customers and influence sales volume, especially when they want to announce discounts, offers or new products.
This is applicable to the wider trade and services industry, with a characteristic example in the tech products commerces but also in the food services sector.
Particularly the big retail chains of these sectors, through sms marketing, "build" not only a stable communication channel with their customers but also strong "loyalty clubs" with regular customers who receive constant updates and enjoy special privileges and offers in a relationship with mutual benefits for both businesses and consumers!
Do it right!
In any case, the important thing for a successful sms marketing campaign is to do it the right way. Which is; Excellent content, selection of the right target group and keeping your audience's privacy regarding their preferences and choices. In other words, there must be fully compliant with the instructions on content and the necessary permits related to personal data.
This is ensured through the cooperation with a reliable and experienced partner such as SMSAPI, capable of sending up to 7 million SMS per hour and a total of 990 million SMS in 2018 thus pioneering in SMS communication, with 12 years of experience and collaboration with more than 7,000 satisfied customers.
If you wish to receive more information about the possibilities of SMS marketing or want to use SMS services that are fully compliant with the relevant instructions and regulations, you can visit the Greek version of the SMSAPI website here.